Joined

Oct 8, 2005
Messages

7,494
Location
Country

Other
Snowmobile

'18 RTX 50th "Winder"
Welcome to my 2018 RTX 129" Winder build thread
List below, in no particular order...most items have part numbers. Many of the mods in the list below have
'Quick Jump Links'
, so you will be taken directly to that item/mod, where I go into much more detail with pics & videos in most cases.

Updated or New items are in blue.
Enjoy! -Dan

​
Click any "

Quick Jump Link

" to go directly to that subject/post.


​
1- Seat - 2017 BTX LE - VRC1 Red - 8KC-F4710-30-00:
Quick Jump Link
2- Window - 2017 SE - 8MG-K7210-00-00
3- Windshield bag - SMA-8LR21-00-BK:
Quick Jump Link
4- Tunnel protectors - SMA-8LR21-50-00:
Quick Jump Link
5- Tunnel flares - SMA-8JPTN-FL-BK:
Quick Jump Link
6- Belt - Ultimax XS825(best IMO)
7- Belt - 8JP(stock)
8- 22 top gear - Cat #1702-395
(went back to 21 gear for belt life)
:
Quick Jump Link
9- Procross LED hand Guards - Black - Cat #7639-770:
Quick Jump Link
10- Brp Hand Guard mirrors - BRP #860200674:
Quick Jump Link
11- Trail Blizzer ski cable scratchers - QualiPieces - #TB03-400:
Quick Jump Link
12- LinQ Brackets for tunnel - White out technologies
Quick Jump Link
13- Knee panel vinyl/Graphics - My own design:
Quick Jump Link
14- Custom REG numbers/Graphics - DoityourselfLettering:
Quick Jump Link
15- GPS Connector & Float Charger - Fused Battery tender pigtail:
Quick Jump Link
16- Shorty brake lever - Hayes - from '15 Polaris Axys
(not using this):
Quick Jump Link
17- 1.450'' Woody's Gold Diggers, Double backers & round backers - CB Performance:
Quick Jump Link
18- Stud Boy Template (2-4-2-4 Pattern) - #2563-00:
Quick Jump Link
19- Carbides-Woody's 8'' Executive-WSD 9500-
Trying ACE 8" Woody's carbides season 2(Pilot 6.9 SEE BELOW #65)
20- 4 wheel rear axle - J&T STEALTH BIG WHEEL KIT:
Quick Jump Link
21- Belt Guard bellypan - barnofparts.com:
Quick Jump Link
22- Dalton DTYA1 Weights-set at 77.3g total(cam arms):
23- Primary Spring(Black/Blue)-
Now running black/red
- Dalton
24- Glide Washers -Thunder Products
25- Helix: Tested 33/35; Tested 39/35; Now 37/35(See #70 below):
Quick Jump Link
26- Secondary Spring-Dalton B/O):
Quick Jump Link
27- Secondary Rollers -OSP(replaced w/Hi Torque Rollers):
Quick Jump Link
28- Belt adjuster-OSP(
replaced w/new BOP adjuster)
:
Quick Jump Link
29- Muffler - Stock modded - TD
30- ECU Flasher -Live Data/iPhone App -By GAP:
Quick Jump Link
31- TUNE - Hurricane 240r,270r,290r Map Suite(JukeBox):
Quick Jump Link
32- CAI - Cold Air Intake(my own design mockup-Part 1):
Quick Jump Link
33- CAI - k&n Part# SN-2570(Part 2):
Quick Jump Link
34- CAI - Installed Complete(Part 3):
Quick Jump Link
35- CAI - Outerwears filter sock - #20-1469
36- Intercooler Grill - Cat style:
Quick Jump Link
37- Sled lift - Lift-a-sled aluminum sled lift
38- Muffler Bolts - 8mm SS muffler bolts - M8 x 20mm - 1.25 pitch:
Quick Jump Link
39- Muffler Lock Washers - 8mm SS lock washers:
Quick Jump Link
40- Muffler bolts Anti-Seize - Nickel Permatex:
Quick Jump Link
41- Water Wetter
42- Chaincase oil Amsoil (355ml - 12oz)
43- "Clear View" Hand Muffs & Canadian tire Muffs(roll up for storage easily on trips):
Quick Jump Link
44- LinQ Short tunnel bag (10+3L) - BRP #860200622:
Quick Jump Link
45- Ski's - Pilot 6.9 - BRP:
Quick Jump Link
46- GPS - 7'' Garmin model 2797:
Quick Jump Link
47- Drilling the Brake rotor protector:
Quick Jump Link
48- Clutch Offset(
machined 4mm off secondary hub
):
Quick Jump Link
49- Secondary Clutch:
Quick Jump Link
50- First Oil Change - Draining the engine:
Quick Jump Link
51- Lower right panel removal/Installing RIVNUTS:
Quick Jump Link
52- First Oil Change - Draining the Oil Tank:
Quick Jump Link
53- Chaincase - In depth:
Quick Jump Link
54- Chaincase - GEARS:
Quick Jump Link
55- Rollover Valve removal:
Quick Jump Link
56- Headlight Aiming:
Quick Jump Link
57- Cold Air Intake(CAI)Installed:
Quick Jump Link
58- BOP Apex Throttle w/heat booster:
Quick Jump Link
59- Belt Adjuster by BOP - New design:
Quick Jump Link
60- Primary Rollers by Thunder Products:
Quick Jump Link
61- iPhone case and mount setup for Live Data:
Quick Jump Link
62- Seat screw replacement-BOP Seat Knob:
Quick Jump Link
63- Quebec trip Video March 2018:
Quick Jump Link
NEW SEASON UPDATES(For upcoming 2019 season)
64- Fall Maintenance-Shocks,Skid,Idlers,Sliders:
Quick Jump Link
65- Carbides- Woody's ACE 8''square bars:
Quick Jump Link
66- RR Upper cross shaft:
Quick Jump Link
67- Handlebar Button(Map switcher on the fly!):
Quick Jump Link
68- Greasing the driveshaft bearing step by step:
Quick Jump Link
69- Stub Shaft removal:
Quick Jump Link
70- Oil Tank-Fixing the leak with new Silicone RTV:
Quick Jump Link
71- Dalton B/O updated secondary spring & 37/35 helix:
Quick Jump Link
72- Coolant hose Protectors(BOP):
Quick Jump Link
73- Hurricane Alignment Bar:
Quick Jump Link
74- Cluster Flash(By GAP & Hurricane performance):
Quick Jump Link
75- NON FLOATING Secondary, while using BOP Belt adjuster :
Quick Jump Link
76- RED Lower front nose piece (bellypan):
Quick Jump Link
77- White Secondary spring testing:
Quick Jump Link
78- Chain Tensioner Roller screws Tack Welded:
Quick Jump Link
79- Transfer Rod MOD(129'' skid):
Quick Jump Link
I will work on this thread to put as much info here as I can, about the above items, and how I installed them, and will give my opinion on them too. It may take some time, and as winter approaches and work slows, I will have more time to work on write-ups here.
Let's start this post with a few DAY 1 pics of the 100% stock Winder, RTX 50th.
First pic at the dealer warming her up for loading
Loaded up in my trailer, ready to take her home
In my shop at home, 100% bone stock pic
​
Last edited:

Joined

Oct 8, 2005
Messages

7,494
Location
Country

Other
Snowmobile

'18 RTX 50th "Winder"
2017 BTX Seat

One of the first things I did was slap on the new seat. I knew ever since early LAST season I wanted the Mountain style seat. I rode a BTX at the demo, and also saw another cat with one and just loved the feel of it. And the bonus is, it allows for more tunnel space behind the seat for my LinQ setup(more on that later) as I wanted to keep the smaller stock tunnel bag in place.
I priced out buying mt. seat foam and doing the swap ect....sure its cheaper but after some talking with my dealer, and the price he gave me on a new seat...I felt it was smarted to just buy a new seat all ready to slap on, has heater and all. So The bonus is I can sell stocker, or keep it for when sled goes down the road later. And have a mt. seat for a future sled.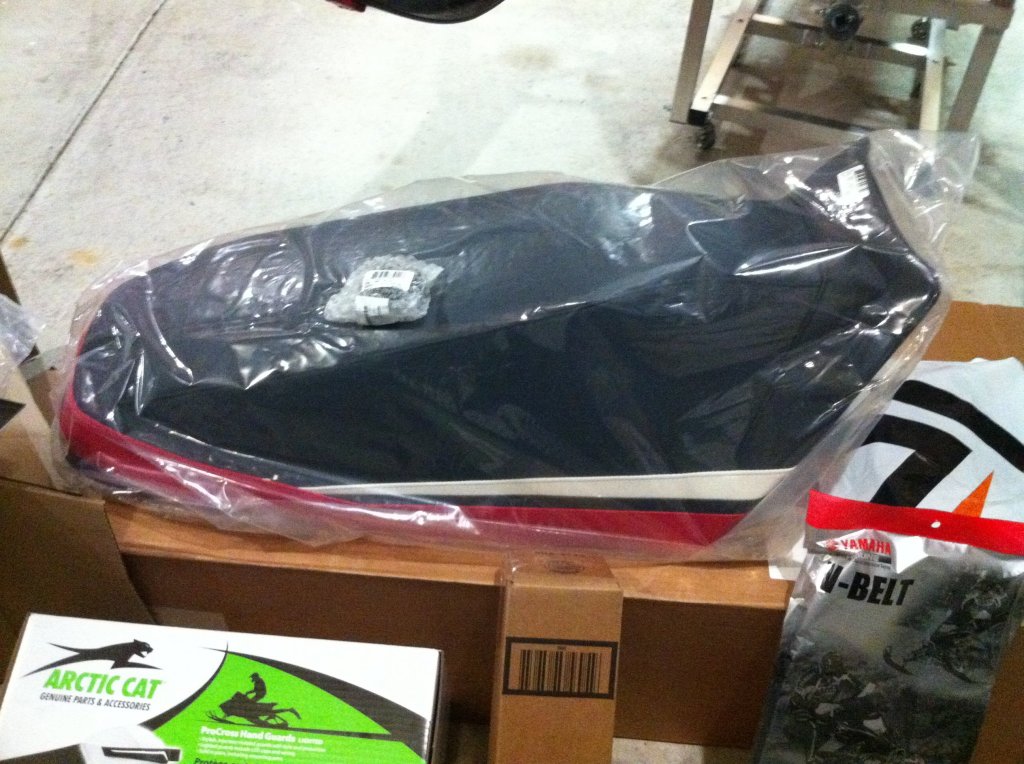 Just remove the screw at back of seat tail, and unclip the clip, unplug seat heater cable, slide seat rearward & seat pops right off....reinstall new one, dont forget to plug in seat heater cable.
Comparison pic of shorter MT. seat vs stocker at tail....
BTX(MT.)Seat installed
Last edited:

Joined

Oct 8, 2005
Messages

7,494
Location
Country

Other
Snowmobile

'18 RTX 50th "Winder"
Windshield Bag

I like this for one reason, it can hold paperwork and keep it dry. Its very small, and wont hold much at all but for Registration papers and/or old school maps it works great. Barely can see it which I like, and works even better with a SE window or larger. Its abit tight on the stock window but its nicely hidden.
Dan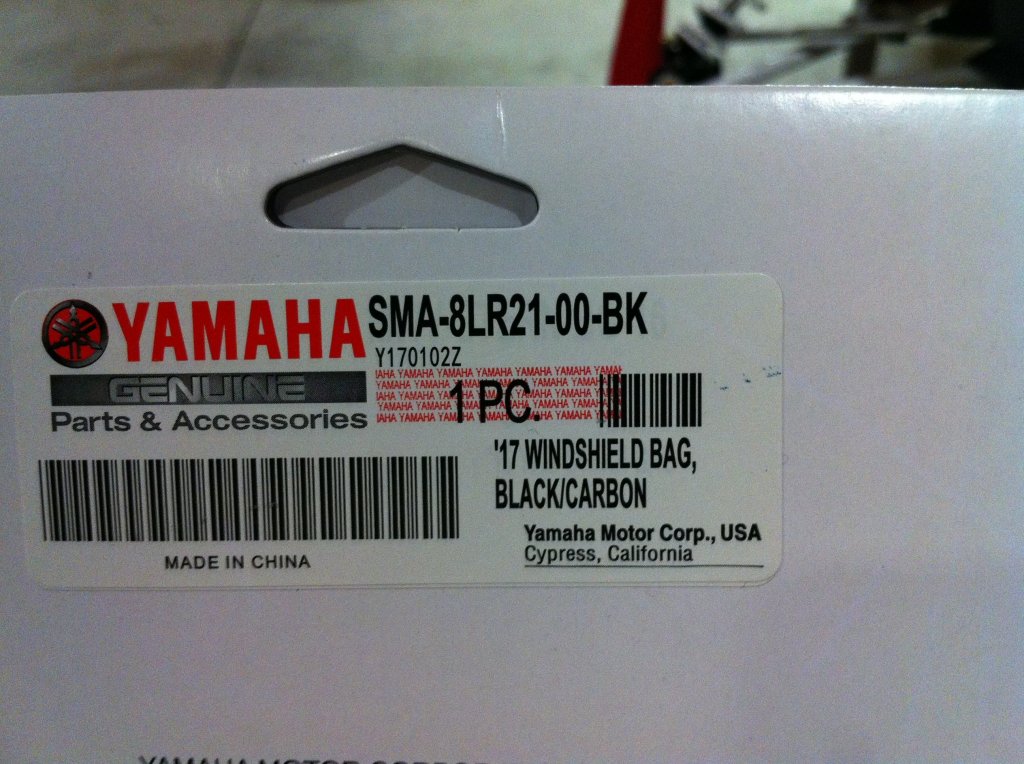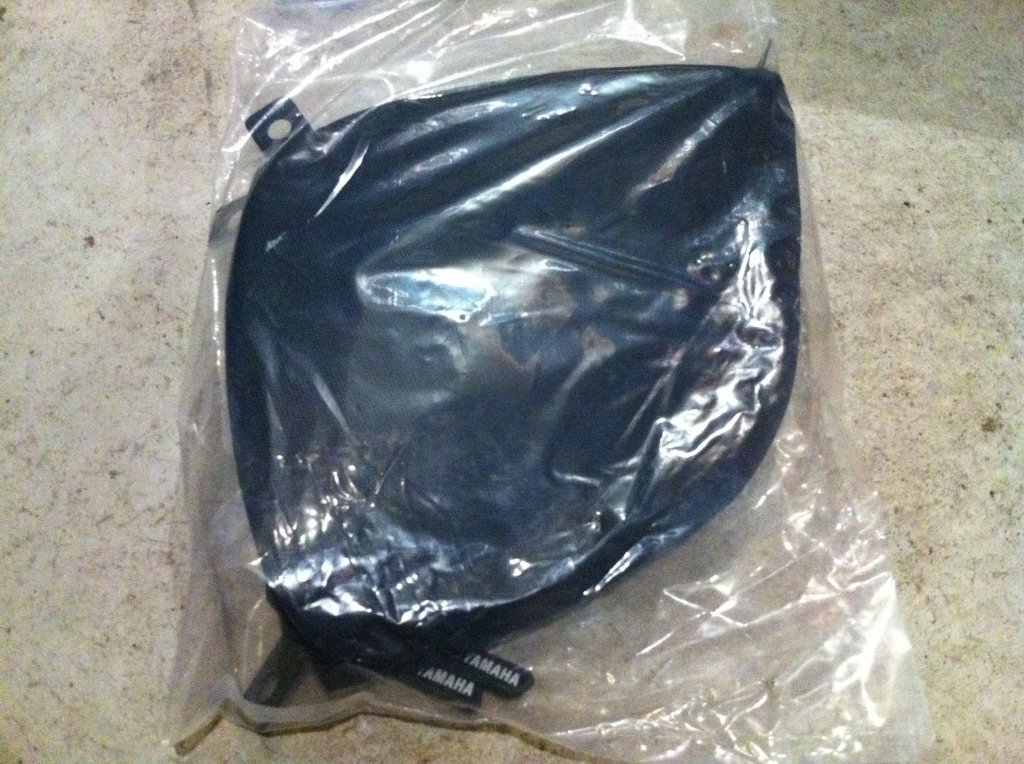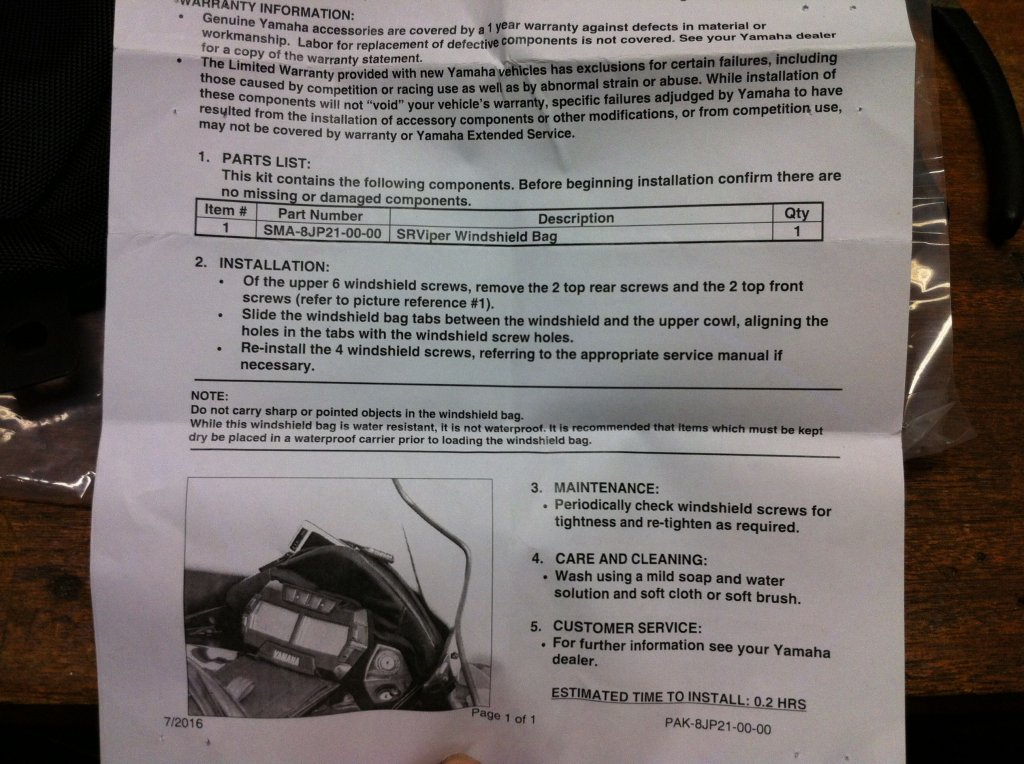 Last edited:

Joined

Oct 8, 2005
Messages

7,494
Location
Country

Other
Snowmobile

'18 RTX 50th "Winder"
Warning Labels Removal

Every sled, and most cars I buy need alot of warning labels removed. This is one of those things that I have been doing since I was little. I like the clean look.
I always have 91% Isopropyl alcohol which is what is needed for removal, and also best for prepping surfaces when installing vinyl graphics or any 2 sided tapes.
Doing this type of thing early on(new sled) really helps alot. The labels on the side panels came off with just a small amount of hair-blower heat.(no heat guns) While the labels on the tunnel were alot more work. They needed hair-blower to get sticker off,but the glue was left behind on tunnel and that is where the alcohol comes on. Soak a papertowel with iso, folded to the approx size of the glue to be removed. Lay the soaked paper towel on the glue for several minutes, this really starts to loosen the glue. Get it as loose at you can with lots of iso....Dont use your fingernail to work off the glue when it balls up. You will leave light scratches on the tunnel, and Black is likely worse then my red tunnel. So only use your finger tip to work the glue. After while it will be done. Wax her with several coates rubbing it all out nicely.
Dan
Last edited:

Joined

Oct 8, 2005
Messages

7,494
Location
Country

Other
Snowmobile

'18 RTX 50th "Winder"
Race Brake Lever vs Short brake lever

The stock LE 50th for 18 comes with a "race" brake lever. It's the same as the Tcats come with for 17 and 18. It follows the curve of the hooked bar end, and has a small 'nub' where a typical shorty(BRP) lever would end. I really like it, and think it will be well used on many of our trails on left hand corners when hanging the ham.
One issue is with such a long lever, it WILL HIT/RUB on most MUFFS. I use the BRP Muffs with clear view panels, and these muffs have a plug in the end, that plugs into the end of grips hole. So for the cold days I run the muffs, I picked up a shorter lever from a '15 Poo Axys. Its the exact same brake by HAYES, so its a direct bolt on.
Dan
Stock "race" lever for 18 LE
Comparison: Stock lever to Poo Axys lever
Last edited:

Joined

Oct 8, 2005
Messages

7,494
Location
Country

Other
Snowmobile

'18 RTX 50th "Winder"
J&T Products Four Wheel rear axle kit - 'stealth big wheel kit'

Just about everyone knows since 2012, the stock "tri-hub" rear axle design is a weak point. I had one of the J&T axle kits back in 2012 on my cat, so I was sure to order one for my RTX.
Got it on sale end of summer, and its worth every penny. It is a top design IMO, and better then "add on" 4 wheel kits for sure. This kit removes the stock tri-hib entirely.
The key to installing these kits is relieving the pressure on rails, enabling them to be separated enough to make the install easier.
So the first thing is loosen the track way off to the max, with sled up on lift.
Remove the two rear axle bolts at rear wheels.
Remove the bolts for the transfer blocks/rod. Remove the transfer block/rod from skid.
Now loosen off the 2 bolts that are at bottom of scissors, bolts to rails. Just loosen them 3/4" or so, no need to remove them. These have a ton of loctite on them, and will need a decent size breaker bar.
Now you should be able to work the tri-hub free from skid.
Reinstall the center section of the new kit, making sure you have the adjuster seats in proper orientation. This can be abit tough alone, so take your time getting it back into place.
Once in place, you can start to tighten the adusters some, and also start to tighten the scissors bolts back up, bringing the rails closer together.
At the end, install the outer two wheels.....adjust your track tension align track as usual, then tighten real axle bolts when done, and install the black caps.
the RTX stock wheel size is 7" OD. The new Stealth kit RTX wheel size is 7.5" OD.
Dan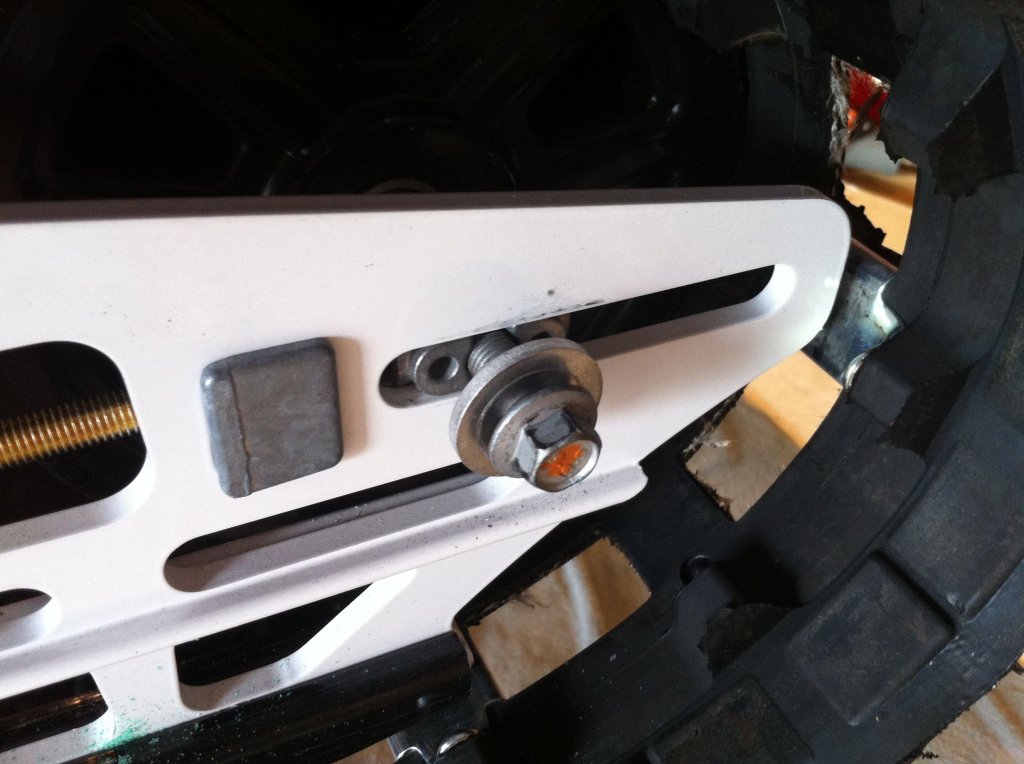 Last edited:

Joined

Apr 30, 2012
Messages

245
Location
Country

USA
Snowmobile

2018 Sidewinder LTX LE, blue
2011 Apex 128, Ulmer Airbox and clutch kit, PCV, HID
2008 Phazer RTX
1980 Exciter 300
This post may end up in the Top 10 of most followed threads....looking forward to see the evolution of your SW. I will be checking the difference between the seats at the Novi show. May be a change I'd want too.
Last edited:
Joined

Apr 19, 2007
Messages

1,251
Age

40
Location
Country

USA
Snowmobile

09 nytro rtx
What they get ya for the seat?

Joined

Oct 8, 2005
Messages

7,494
Location
Country

Other
Snowmobile

'18 RTX 50th "Winder"
Tunnel Protectors

I decided to go with the factory Yamaha/Cat protectors. They are quite nice actually, and a breeze to install in no time at all. The whole deal with the Epoxy seems excessive, and likely why they charge so much for this kit. LOL. At least the epoxy will stop any rattling a alum protector might have.
Note:
Check your 3 bolts. If they are same as mine, the 3 holes need to be drilled out larger with 11/64 bit.
Once you drill the holes out larger, the screws should be screwed into place up on work bench first, to thread them easily. Then remove the screws.
Once you clean the slots with alcohol, apply the epoxy into grooves, and slide them in from front toward back, install screw and bottom it out, then slide them forward til screw hits exchanger and let is set up for 24hrs.
Dan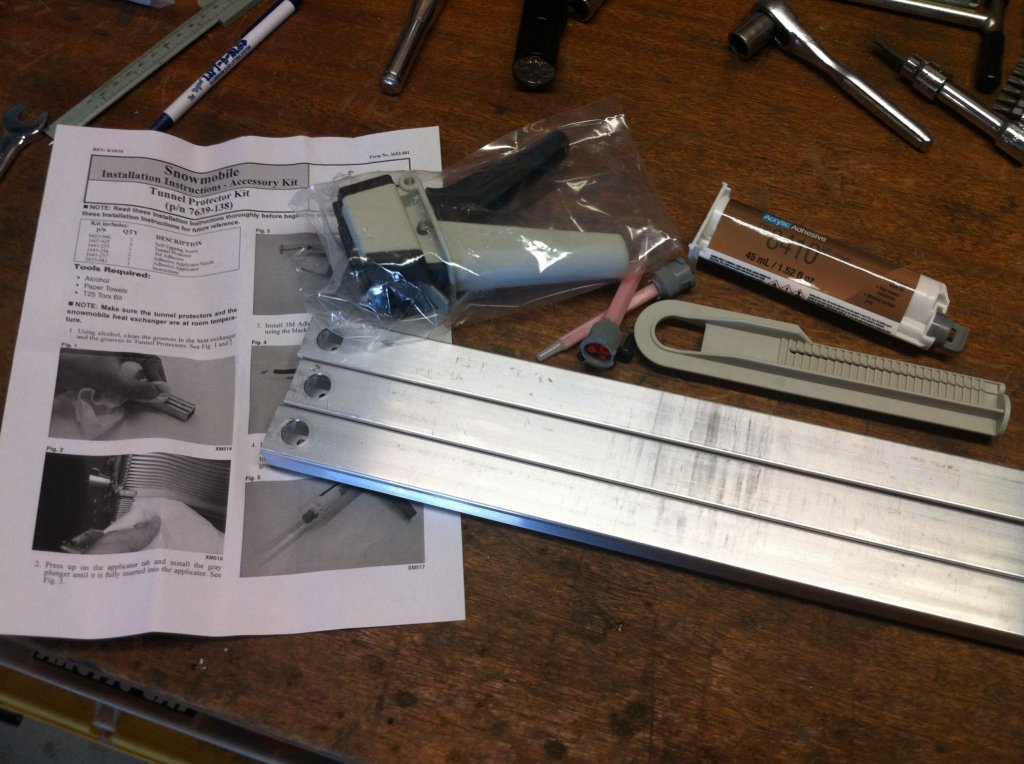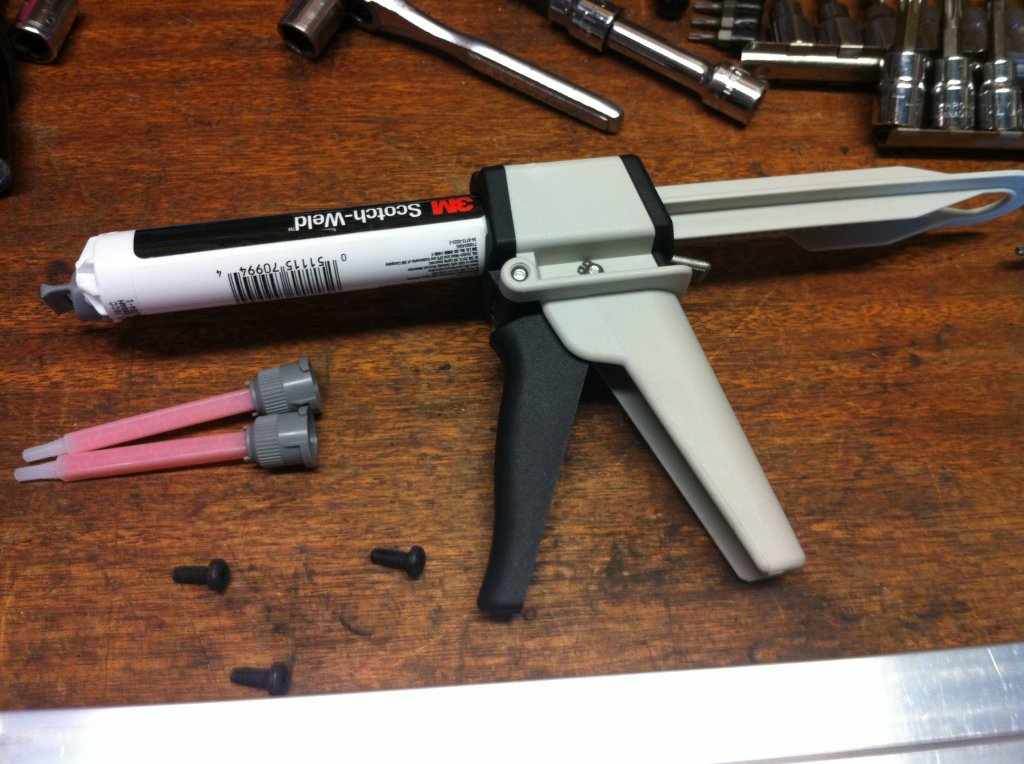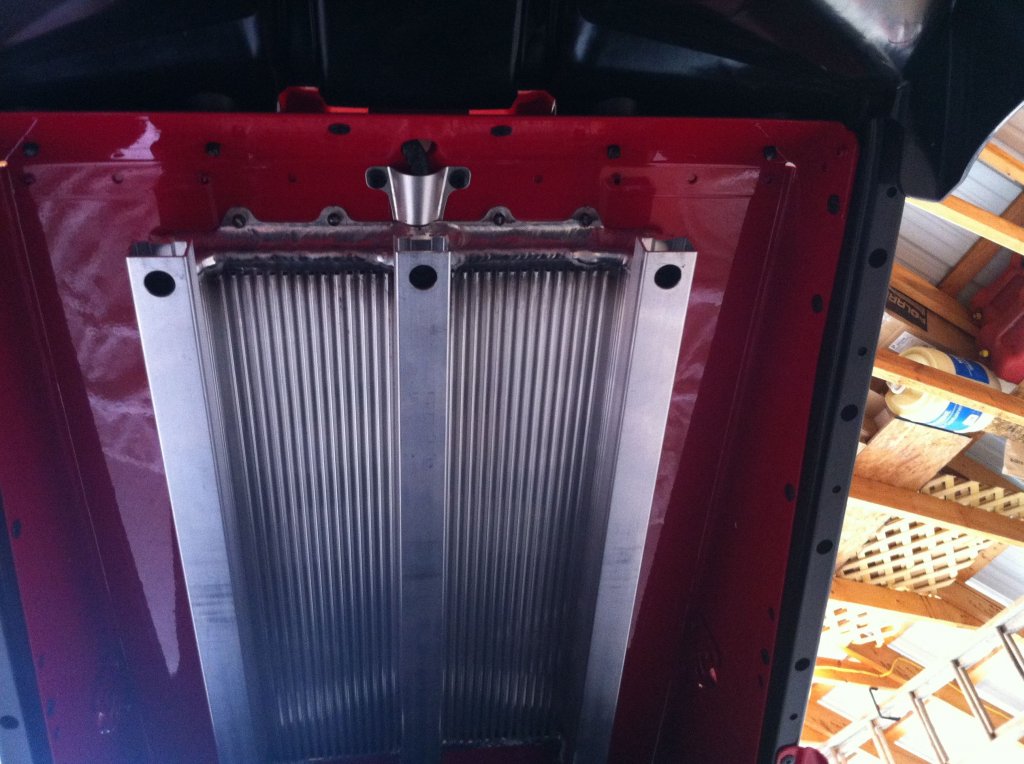 Last edited:

Joined

Oct 8, 2005
Messages

7,494
Location
Country

Other
Snowmobile

'18 RTX 50th "Winder"
Belly Pan Guard- Barn of Parts

Great design from Barn of parts.
http://www.barnofparts.com/apps/webstore/products/show/7602555
I really like this belly protector, as its a nice clean look, and offers the upper section where I have seen pans get cracked from a blown belt. Cant beat the price either!
I decided to remove my clutch to make it abit easier, but I believe you can do this without removing it. I just felt it was easier.
Dan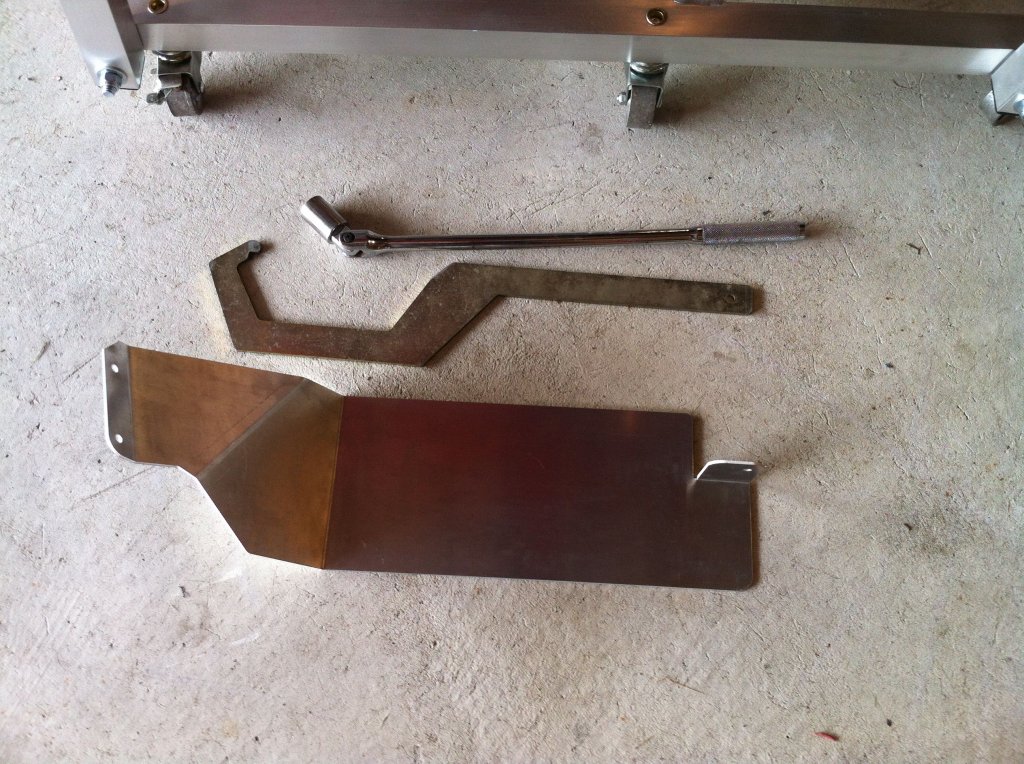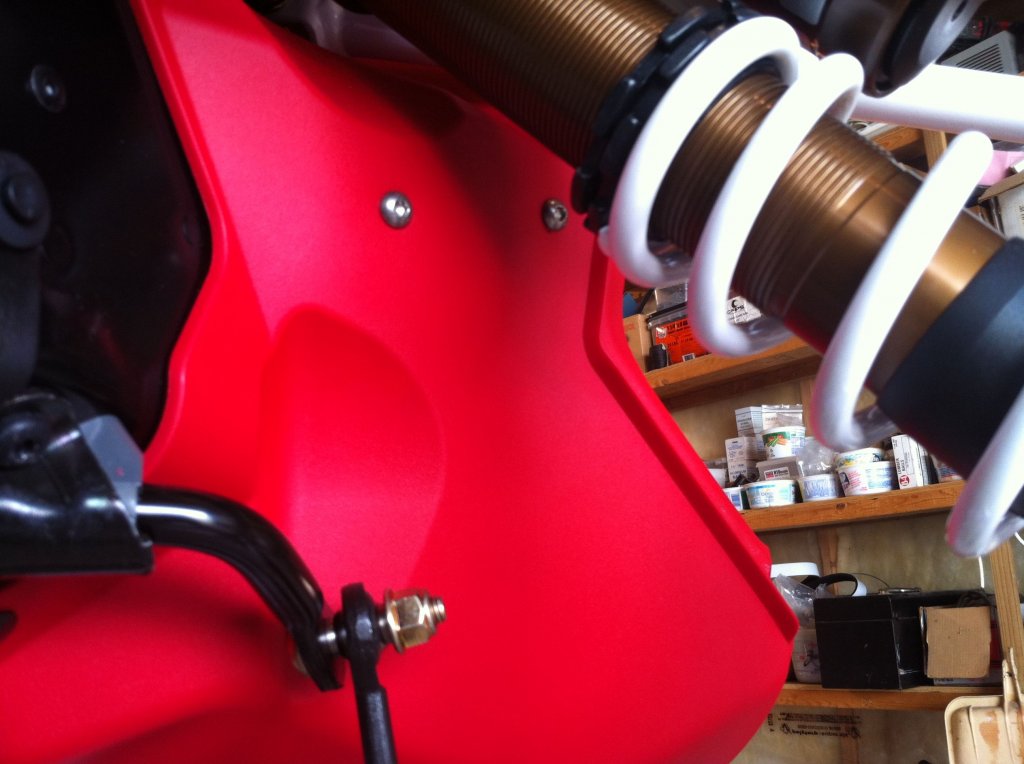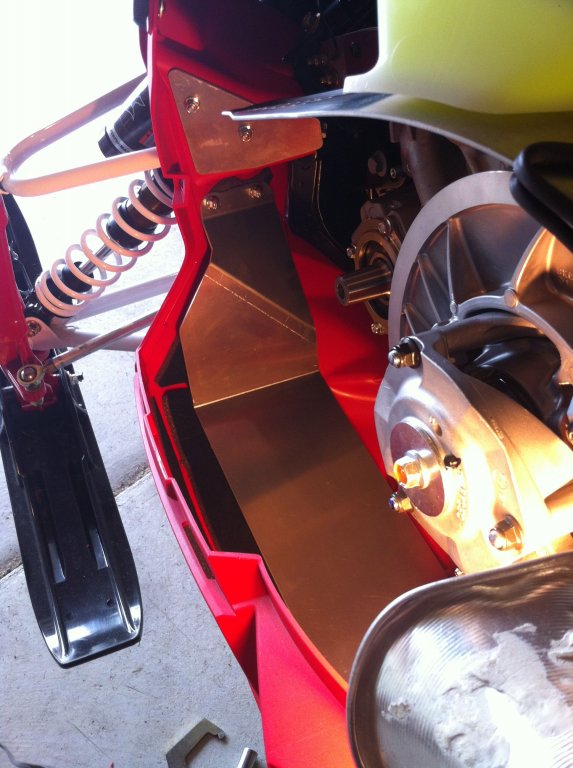 Last edited:
Joined

Feb 5, 2014
Messages

1,098
Location
Country

Canada
Snowmobile

Sidewinder RTX LE
You're worse than I am with buying new parts for a sled you haven't ridden yet.

Just curious about that ultimatax belt? Myself and my buddies have never had good luck running aftermarket belts on all our past and current yamahas. Seems like the 8jp is working fine even with those long radar runs the TD guys do.

Joined

Oct 8, 2005
Messages

7,494
Location
Country

Other
Snowmobile

'18 RTX 50th "Winder"
Anti-Seize on Muffler Bolts

This may be the MOST IMPORTANT post in this thread. This is something ALL Winder owners should do IMO. And if you are not a wrencher, then have your dealer do it before you even pick up sled, as its alot easier with new sled.
With this design we have many great features. The engineers did a great job with this new 998 turbo. One thing I believe they overlooked was the ease of access to the chain adjuster. You must remove the muffler to adjust your chain which we ALL need to do at least once per season min. Removing a muffler on NA sleds is not a big deal, but when its bolted to a turbo that glows red hot much of the time, these muffler to turbo bolts will definitely GALL up the threads when trying to remove, nearly every time.
The cure is Nickel Anti-Seize. Its fairly hi temp, to 2500f. And does well at allowing these to be removed without galling. Many of us learned the hard way last season with broken bolts, be them stock or ARP hardened, or 8.8 or 10.9 hardened.
My thoughts......When brand new, do what I did here. On a brand new sled that turbo has not glowed red hot for hundreds of miles yet, and so the stock bolts can be removed fairly easily. If you wait, that word "easy" is gone forever.
So on my sled, I removed the shroud to get at the muffler bolts...they are a large T50 torx, which was another design flaw IMO. As there is one or two bolts on left side that are a bugger to get at. So you need to modify your torx 50 socket into just the bit, and then use a 5/16 wrench on that bit.
Once removed, apply liberally nickel anti-seize(google it, Permatex makes some and others) and reinstall 4 of 6 stock bolts. Then the other two that are hard to get at, Get some Stainless Steel M8 x 20mm(1.25 thread pitch) Hex head bolts, and use SS Lock washers on them. Then you can use a normal box wrench in them.
I will only use the stock 4 bolts this one time as sled is new. But next time I remove it for any reason, no matter the miles. I will ALWAY chase threads first with tap, and then install brand NEW Stainless steel bolts and lockwasher each time thereafter. My theory is that once they heat cycle enough, they become brittle, and this is why I tend to lean toward softer SS which also wont rust over time. I also like the idea of a lock washer and not cranking them too tight, I just snug them with the lockwasher.
Dan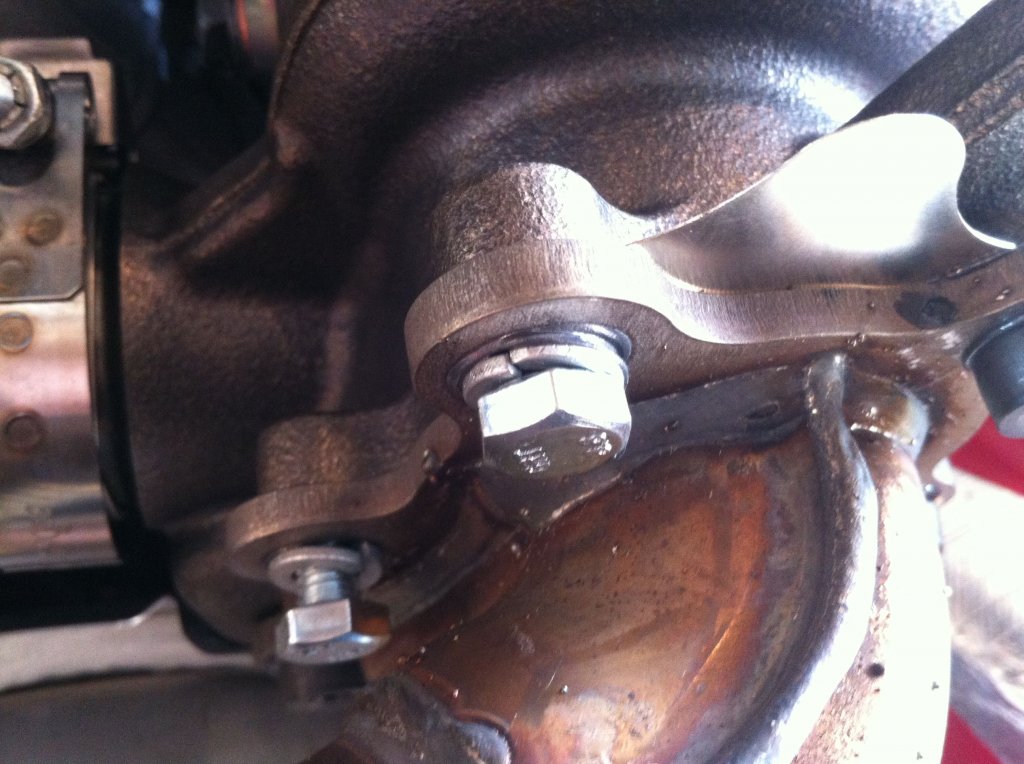 Last edited:

Joined

Oct 8, 2005
Messages

7,494
Location
Country

Other
Snowmobile

'18 RTX 50th "Winder"
Battery Tender Pigtail-Fused

Every since my first Electric start sled(06 Apex) I have been using Battery tenders. I like the compact size and price of the "Jr." model. All the Harleys, Sleds Lawn tractor and just about every toy gets one.
On the Winder of course the battery is in back, so pop the seat off to get at battery...and simply bolt on the two leads(POS & NEG) and feed the pigtail down/out the center hole in rear below battery. Now you can plug in the tender anytime to keep the battery in tip top shape all year round.
I also love using these fused pigtails for wiring accessories. They are only about 5 or 6 bucks, and less if you buy a bunch in bulk. And the interesting thing about the cat wiring harness, is it uses this same 2 plug connection, so these tender pigtails will plug directly into the accessory port down near chaincase, and then I simply splice in my GPS cable, and its fused and powered on with key.
Dan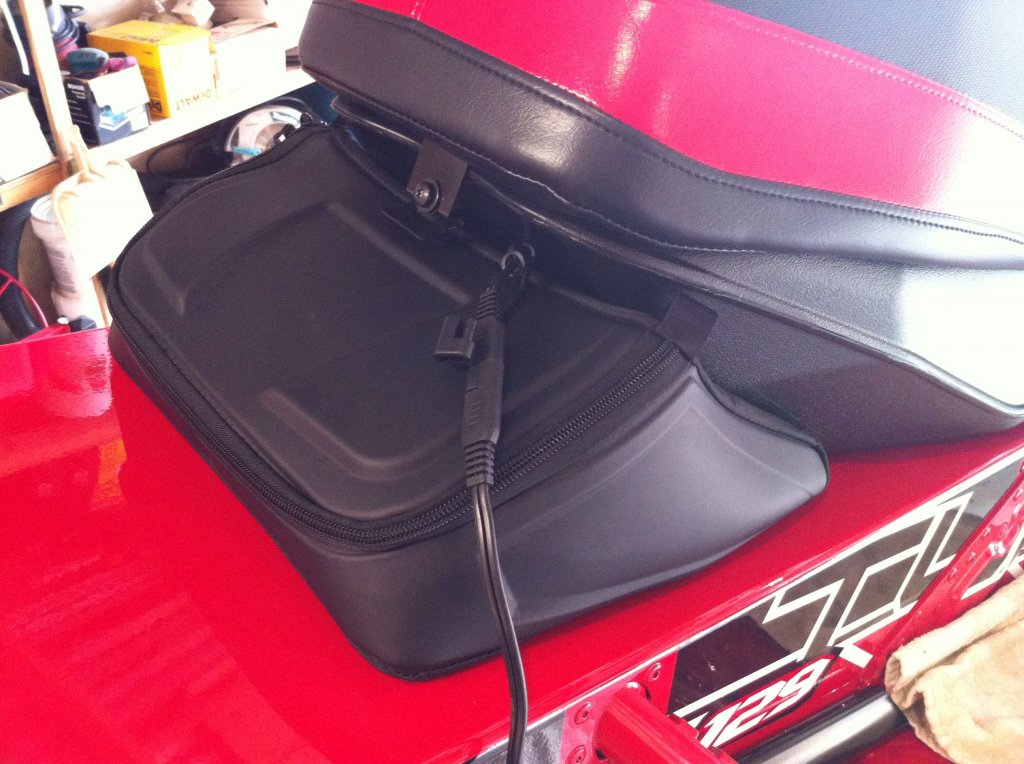 Last edited:
Joined

Oct 8, 2011
Messages

841
Location
Who's bundle of tunes did you end up going with?

Joined

Oct 8, 2005
Messages

7,494
Location
Country

Other
Snowmobile

'18 RTX 50th "Winder"
Procross LED HandGuards-Arctic Cat
I hemmed and hawed for some time about Handguards. I was pretty much set on the Powermadds, but was not a big fan of the large mirror look, and also the brackets are basically same as they were yrs ago. I just wanted something abit more like the DOO brackets with a more factory look.
I saw a guy with procross Guards end of last season, and I was really impressed with the size, the solid feel, and the really nice brackets. They do not offer a mirror as of now though, so I knew I had to make my own mirror setup, which I did today and they turned out even better then I had hoped.
I did not like the instruction,which has you mount the LED white box(power transformer) over the header on right side, top of spar. Too much heat there IMO, so I mounted it on left side where there is alot less heat. It comes with a pigtail you must use down near chaincase, that taps into stock wire harness. Easy peasy. The two wires coming from each Guard, can easily be dressed in and behind the main harness coming down front of riser from bars to under hood, I was able to dress in these wires and also the GPS main cable which is rather fat. Looks nice, and much easier then my doo with the adjustable riser that made all the wiring much harder.
Dan
Showing where I mounted the white LED box, left side.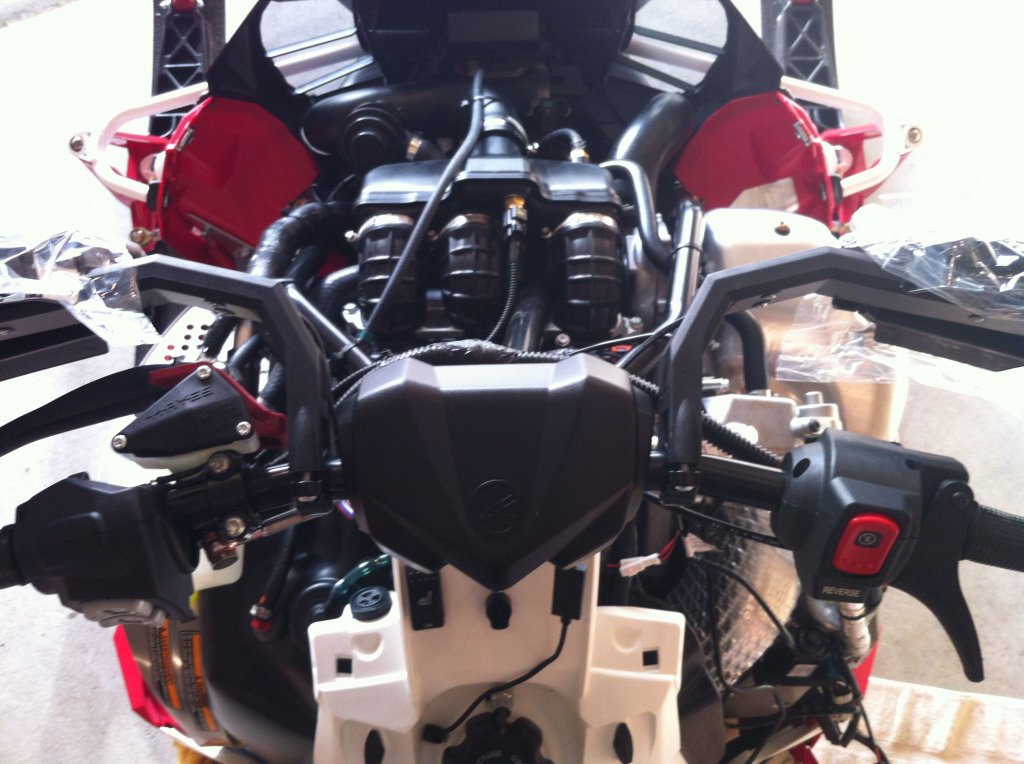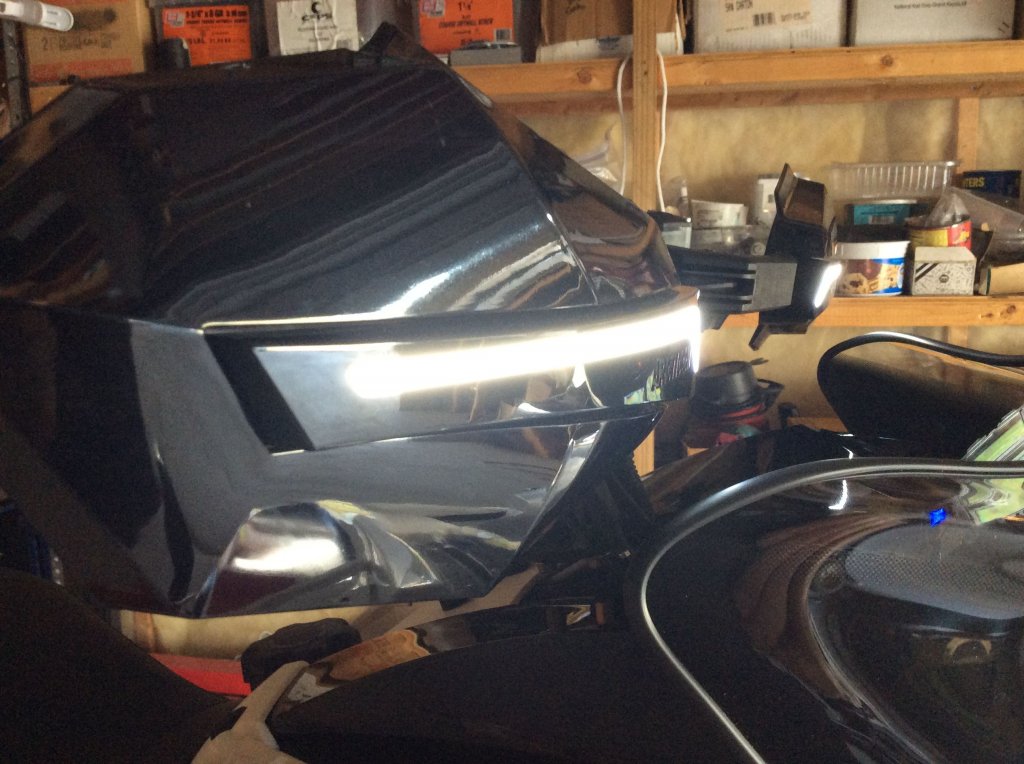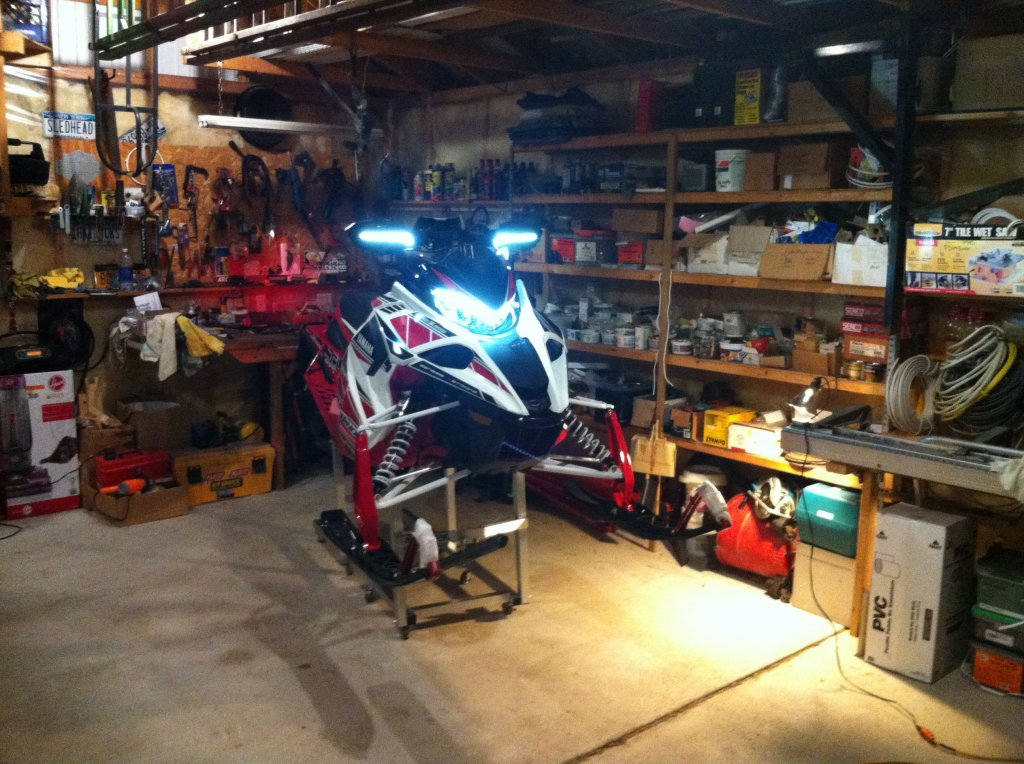 Last edited:
This site uses cookies to help personalise content, tailor your experience and to keep you logged in if you register.
By continuing to use this site, you are consenting to our use of cookies.