Many of you followed my "2012 AK Sled Build" in the Nytro Mountain forum. I decided to stop posting in that thread and start a fresh build thread here. As with my other build thread, I welcome all suggestions/critisism. I'm just a natural gas service tech with a drive to build a super lightweight 4 stroke mountain sled.

Here's the breakdown
- using my 2008 Nytro motor with 4,400 miles on it
- reusing my low boost turbo kit
- Apex non reverse chaincase, lightened as much as possible, reusing my Avid 8 tooth drivers
- 4130 tube frame
- Viper front geometry w/ custom upper a-arms, 36" ski stance
- 155 x 2.6 series 6 Polaris track(already have)
- custom body work
- M series Timbersled suspension(already have)

Doing this on some what of a fairly tight budget (hence no belt drive). Going for a finished weight under 420 lbs.
Joined

Jan 1, 2007
Messages

1,922
Location
Country

Canada
Snowmobile

Yamaha FX NYTRO XTX
when does this build start?

I've been working on details and frame drawings for awhile. I have a metal lathe showing up next week and then I'll start making the pieces for the upper a-arm jig and frame jig. This will be a slow build.

I was pretty set on using the Apex chaincase but I weighed everything yesterday and it's absurdly heavy. I weighed the jackshaft, driveshaft, Avid drivers, chain & gears, case halves w bolts, Nytro brake rotor & caliper, all bearings and hardware. Only thing missing are 2 bearing holders.

Total was 27.54 lbs. (not including secondary clutch). And that's for 06/07 non reverse case which was the lightest case and driveshaft due to not having the additional lower bearing. With bearing holders and hardware looking at 28 lbs complete.

I may sell the second Nytro motor I have and run a belt drive setup. Looking at possibly doing the following.

- BDX Viper non reverse jackshaft for belt drive
- BDX aluminum driveshaft
- BDX superlight brake rotor
- 2018 Ascender brake caliper
- MVM upper/lower pulleys & tensioner
- aluminum bearing holders for the remaining 3 bearings

Trying to get weights on everything but what I've found so far looks like about 10 lbs lighter then Apex chaincase which is significant.

Gotta get the drivetrain figured out first though before I get too far into the jig.
Joined

Aug 31, 2012
Messages

183
Location
I wish someone would try an open roller chain drive. It works on 200hp high speed motorcycles without problems, more than one set of sprockets could be stacked on a shaft to facilitate easy gear changes by just moving the chain over and might fit behind the secondary clutch leaving the whole left side clear for fuel or luggage or something.

Timbersled did years back and they didn't work. That was around 2003 though so maybe chains have improved since then.

If I can get the complete drivetrain close to 18 lbs, then a 410 lb sled is entirely possible, maybe lighter.

Man for 10lbs knowing the apex set is bullet proof I would be hard pressed to slow things down. I know its 10 lbs but drivetrain is one thing I never even blink at on my sled. Some peace of mind is worth something for me. The gears and chain are by far most of the bulk. I would never trust a aluminum shaft, everyone I have seen as broke some right away some after only minor use. If your jumping it in the mountains landing hard, etc it will leave you stranded. Run the apex case.

I hear ya, it's just tough to swallow knowing there's a much lighter option.

I have some nice aluminum bearing holders coming for the Apex stuff. The driveshaft would be shortened to fit a 15.5" wide chassis and with some aluminum bolts I think the whole setup could be under 27 lbs.

Looked at putting the brake rotor on the driveshaft inside the tunnel and using a lightweight caliper but from what I read they ice up bad.

If I did decide to use the Apex chaincase it has to be made lighter, so I've been thinking about driveshaft brakes again.
Kart rotors are the perfect size for a driveshaft brake. 6" dia x 3/16 thick. PMC in NY has a drilled kart rotor that only weighs .561 lbs(called & they weighed it for me). Wilwood has a PS1 caliper that only weighs .93 lbs and works with 6" rotors.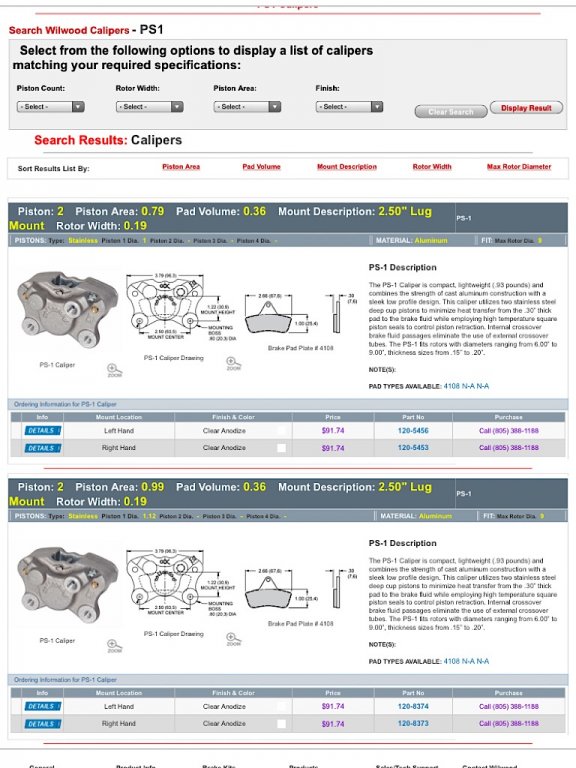 If narrowing the chassis to 15.5", it would leave enough on the end of the driveshaft to machine a key way and make a brake hub.
With the brake on the driveshaft outside the tunnel, the jackshaft could be cut immediately after the nut that retains the upper gear, the outer bearing removed from the cover and hole sealed, and brake ears cut off. This would save a significant amount of weight and still be fairly inexpensive, the rotor & caliper are both pretty cheap as well. And best of all you retain the durability of the Yamaha gears & chain.

Who would have thought. Actually fits better on the Yamaha splines then it does the Polaris splines. Edited: I'm not running a belt drive, just did that for fun and it happen to fit.
Before weight. I'll have an after weight in a couple days once it's done.
Last edited:

Ahhhh that may be awesome keep going

I ordered that brake rotor today and started on the case cover so I'm committed now.
I'm about 80% done grinding the cover. I was hoping to be under 1 lb finished but I don't think I'll get that.
I've been reading up on welding magnesium and I have two options since you can't weld Alu to Mag or use Alu filler rods on Mag.
Option 1: Cut a circle out of my Nytro chaincase cover, cut thin strips to use as filler rod and TIG weld the circle to the Apex cover. That way all the material used is the same and it should weld up fine.
Option 2: Cut a circle out of thin aluminum, use the same glue Polaris uses and glue the circle on.
I'll probably play around with the welder and Nytro cover on Sunday and see how it goes. If it welds ok then I'll most likely weld the Apex cover.
Edited: So there's an option #3. After searching the Internet, I found a 52mm x 7mm rubber end cap. Wouldn't look as good but that's about as easy it'd get to seal the hole.
Last edited:

Joined

Nov 16, 2016
Messages

4
Location
Country

Canada
Snowmobile

Arctic cat M8000 2019
YZ250 Snowbike
Check at a skidoo xp or xm chain case cover, they use a big plug on the upper part of the cover to cover a pretty big hole like this... This part could possibly fit your application if the brp plug isn't too small.

I ordered 2 of the nitrile end caps since they were so cheap. Depending on what they weigh I'll likely use one because it's easy and I'm not putting a bunch of heat into the cover trying to weld a cap on.
I pretty much finished the cover today. Waiting on some abrasive buffer pads for the Dremel to get here and then I'll polish everything up. I was hoping to get under a pound but it's not going to happen.
Picked up my new mini lathe today as well!
This site uses cookies to help personalise content, tailor your experience and to keep you logged in if you register.
By continuing to use this site, you are consenting to our use of cookies.