Joined

Jan 14, 2015
Messages

120
Age

46
Location
Country

Canada
Snowmobile

2005 VK540, 2010 VKPro, 2014 Viper
Nice! machine. Nice riding area! Pics are beautiful. Very similar to what we have here, but looks like you are a little more mountainous, have larger fjords and have a few more trees.
Greetings from Nunavut!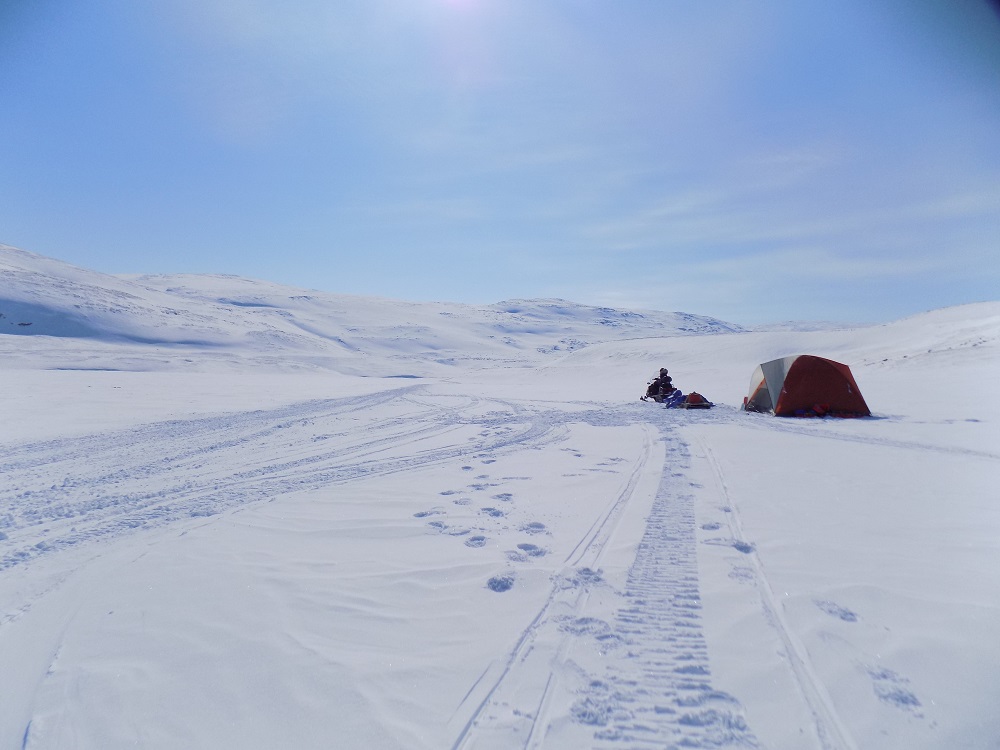 My Easter weekend, I had to work. This was on Saturday during the Iqaluit-Kimmirut-Iqaluit snowmobile race. My check point.
Thanks.
Yes the scenery is amazing to ride in. To bad I don`t get to do as much riding as I would prefer..
Got a few more km`s this last weekend. At friday night I blew a belt for the first time. I were going across a lake trying to catch up to a buddy, and were powering up to 10500-11000 rpms when it blew. So it hit the limiter hard. I were quite worried that something had broken, but it seems like only the belt blew. It was a serious pain in the a.. to get the debris out. All the rubber was scattered around and the thread inside the belt had mangled itself around the helix. We had to get a crowbar and some pliers to get it cleared.
Are there any tools that are made to compress the driven pulley when that happens (or just to change belts)?
Some pics:
Primary, easy to clean
secondary, pita to clean. The spring is so stiff..
overall, lots of debris everywhere..
Maybe not so bad that the belt has lasted this long. It has been on since the sled was new, that is about 3750kms and 11 years..
Sunset on the mountain
btw: if anyone wants to chime in, please do:
"The sled pulls really hard, but if I´m not really careful with the throttle it goes on the limiter. Is there any other ways to avoid this, than adding more weight? Is it possible to reduce the boost at the top of the rev range?"
Is it hard to use to mcx logger and software to fine tune the boost?
Last edited:
Upgrades on the way.
The sled was until now widened to 45" with a pioneer performance kit (stock was 38?, as it is a mountain model) with fox floats. But the widening kit was made for stock shocks, so they were mounted a bit inwards on the a-arms. This made the sled a bit tippy, so now we are going for stock apex width at 42".
First ride this season:
One from last season, shows more of the M-skid (as photobucket removed all the old photos..):
one more:
"new" front end. Stock width, oilite bushings and ttx shocks. Had to order new bolts and collars for the spindles as the old ones were bent and broken (expaining the hex key as a temporary "bolt" on the temporary spindle). So now I`m waiting for parts..
old front end:

Joined

Jun 1, 2004
Messages

7,440
Location
Country

Canada
Snowmobile

2016 apex xtx
2011 apex xtx
2009 phaser rtx/x
1997 et410t/r
1988 vk 540
lookin good.

thanks for reminding me to check lower a arm bolts this year. looked like a w 2 years ago when i put the oillites in it.
Ready for easter holiday. Sent it to the cabin today:

I see you have an Anti-Theft cover on it, lol.
Ha-ha, yes.
It`s the only cover I have that fits unfortunately. The riser is so high, and the air inlet at the back makes the oem apex cover not fit at all, but this one almost does..
Well due to insane amounts of snow lately, danger of avalanches (they go everywhere now) and incredibly flat light I did not get to ride much. Easter was over wednesday, back to work.
But the "new" front end was a great improvement, sled is much more stable now.
Btw it started to smell of oil again, so I have to check those oil return lines again.
Is it normal for the yellow oil warning light to come on while sled is almost upright? It did when i got stuck on a hill..
Lots of fresh powder, and this was before the most snow came: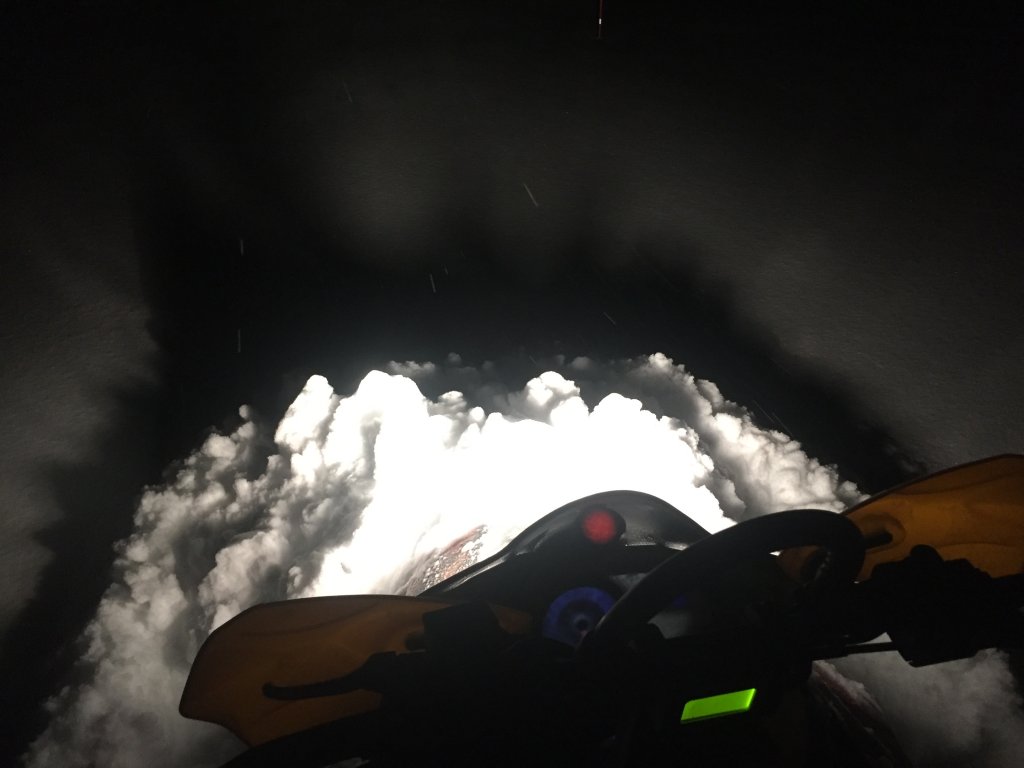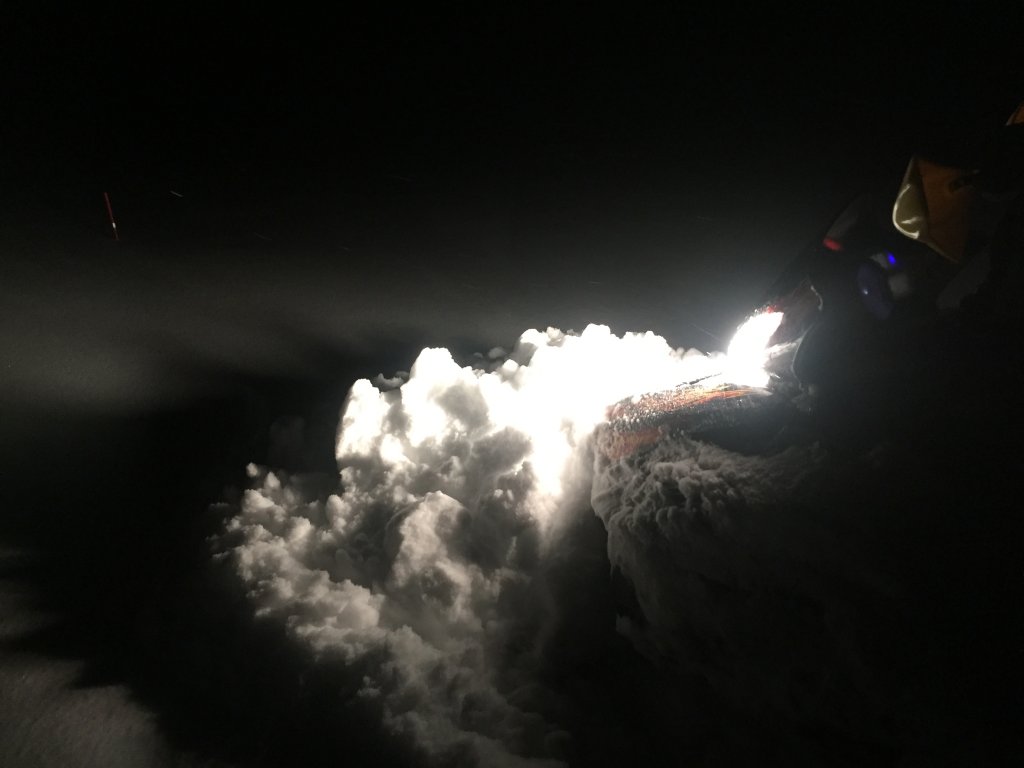 One of the bigger avalanches, caught one of the few times the sun showed up (sled trail is right through the middle of it):
Flat light:
And more snow incoming:
Not much updates lately, and not much driving.
Been struggling with smoke from the exhaust (oil leaking through turbo seals).
Checked all hoses for kinks and interruptions. Found one by the engine (see pic below) that was kinda kinked, and fixed it by relocating it above the intercooler support. But it did not stop smoking. The pics below shows the smoke after shutting the engine off..
I guess that next time we go to the cabin, I´ll have to check the oil return pump. Has anyone had issues with that pump?
I commissioned new seat covers for my Apex from Nithrone. They are the first Yamaha snowmobile covers they have done, and I can't wait to get them home, and choose one to install. I think I will go with the yellow one. They are just finished, got some pics today. What do you think?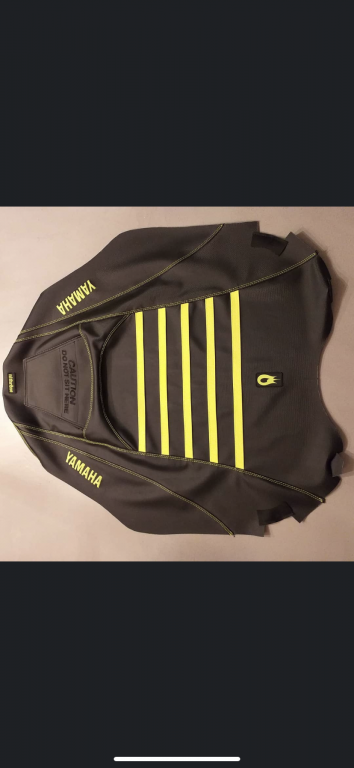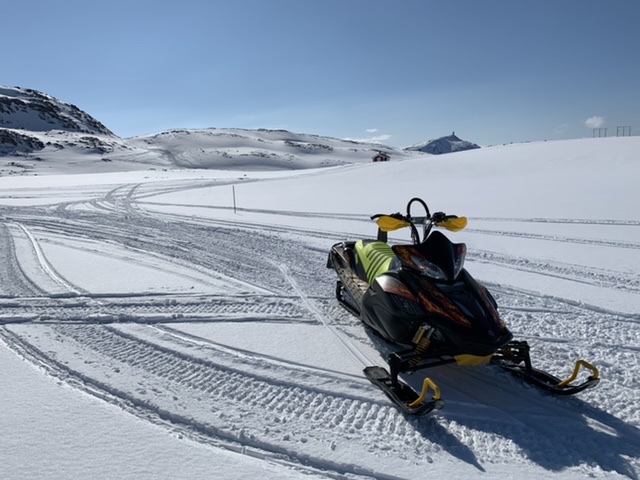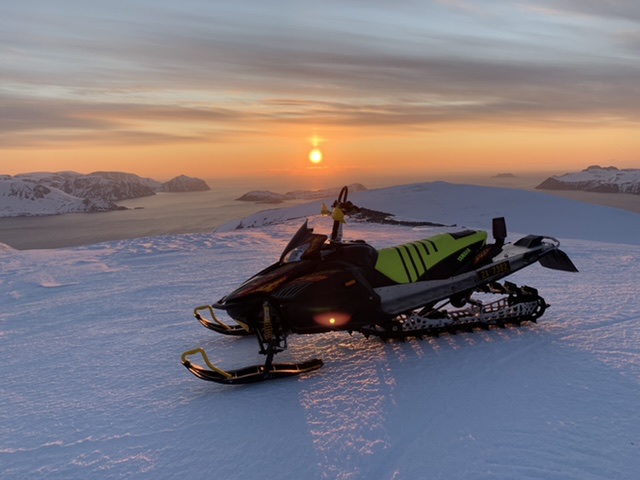 Finally got the apex finished before last weekend. It felt good to get on the boost again.
Since last time I installed one of the new nithrone seat covers. I think it may be too bold, so looking for a new seat to put the other cover on (if anybody in norway, sweden or finland have a spare seat, let me know...). I also checked the oil return pump and the return hoses and everything were good. So I tink the oil problem may have been the seat pinching the return hose, so i cut a bit more off underneath, so far so good. I also installed a belt change device from rich motorsport (?) which you can screw in a bolt/handle to separate the secondary.
On the last day of riding I had a problem with the sled letting of boost at 0,5 Barg and stuttering. I did not find anything wrong after a checkover, and afterwards it worked fine. Wonder what that could have been. Made a separate thread in the turbo section, hoping for some tips/pointers/suggestions.
Have made enquires to m&m racing about a clutch kit, as I hate that it hits the limiter when giving it wot from low speed.
Last edited:
Greetings from Finland! Nice to see these old ones still running. We have two apex 163" builds, other is my brothers with t-motion skid and now we are adding some mpi charger kit in it and drop and roll chaincase, new front end and steering also. Other one is mine and my daughter and wife drives with it, it has lynx boondocker 4100 skid and some other minor mods on build. For your clutching troubles there is simple solution, you have to change your way to load your supertips. Heaviest tungsten weight on tip of the weight, so it works as much heavier weight. There is many ways to use these weights and I like using these on my turbo nytro. Other easy way is to just loose some tension on secondary clutch spring, it helps a little. There is some videos in youtube with my username of my sleds. Keep up good work with sleds!
Similar threads
This site uses cookies to help personalise content, tailor your experience and to keep you logged in if you register.
By continuing to use this site, you are consenting to our use of cookies.