Now that this is in the garage forum, I can post stuff from my other sleds also:
My "daily" driver, 02 Lynx Enduro 700.
It has 440 racing gearing, an arctic cat mountain something handlebar (as I broke the stock one, hitting an iced up rock.)
This autumn I installed a 44mm track from a nytro (i think), with 2,86 pitch (instead of 2,52), so I also upgraded to 2,86 non slip 7 tooth drivers. It also got some new bearings on the driveshaft and idler wheels.
00 ZRT 600
A crappy old sled I got very cheap.. It has a nice engine sound, but that's it.
I had to upgrade the main clutch with a second hand one, also this autumn.
Next up with this one is to change or adjust the secondary clutch also as it backshifts really bad.
and finally the kids sled 12' SNO PRO 120
This one I had to "pimp", by changing most of the black plastic with green.. much nicer than stock.
Nothing new really. The apex is redy to hit the snow, which finally came in this last week. We had an incredibly dry winter so far, but finally we got some real snow. But typically I have work now, so no sledding till next weekend. Also the ZRT is sold, but I have a few new sleds on hand... only yamahas this time.
Finally got to ride today. Damn sweet to feel (and hear) the boost. I love it..
But I have to do something with the clutches, maybe a multi angle helix. Had to ride "with an egg" under the throttle to keep it off the limiter. Any pointers on a new helix? I have a straight 45 now.
Had to test a bit over this long lake. Got 172km/h. My friends cat 800 only got 125km/h
Then this happened (he blew a belt..):
Had to sensor my friend:

Joined

May 1, 2011
Messages

242
Location
heheheh.I started to look for clutchkits long before i boosted.now everyone thinks i have MCX290
ULMER RACING!!!
Got a new multi helix, and it still goes on the limit. next up will be adding more weight to the tip.

Went on another trip with another friend with an arctic cat crossfire 1000. Guess what happened.. He blew a belt. What is up with those arctic cats?
Btw how much fuel does your turbo machines use? I used a full tank yesterday on 100 km, hard packed snow, semi economic trail driving. quite a bit.. The worst part is that most fuel stations have stopped selling 98 octane, which is required on my sled.

Joined

Jan 17, 2005
Messages

7,312
Location
Website
I get about 10 miles per gallon (US gallon) on my supercharged apex running 10-11lbs of boost. My motor is decompressed with a head gasket so it works on 91 octane. Love the look of that Apex!!

Joined

Mar 1, 2004
Messages

4,868
Location
le700 said:

Season is over now. I managed 150-200 km this year, which is not bad as the sled wasn't ready until easter, and i worked some weekends etc.

I did not get to try out the supertips, or the mcx display adjustments this season. The sled worked great with the mcx weights for everything, except rapid full throttle pulls (in which case it hits the rev limiter..). So guess there is some work to do next season.

There was also the issue with the exhaust cover cones on the back, that melted and fell off . Luckily someone found it and I got it back. I have to make a fix for it so I won't loose it again.

To round up this season here's some pictures:
ABSOLUTELY AMAZING PIX....WHAT A AWESOME PLACE TO RIDE



Nice seeing your MCX Turbo rippen it up...Sweet

Thanks Kinger. I think that would be about the same, maybe a little more on your side.
Thanks Bounty. Yes it is amazing. Very nice to go on adventures to explore new fjords and mountains, especially when the weather is on our side.
Last night i added more weight to the supertips. Hopefully this will work well now.
Here is before and after:
just a pic to remember which way the bolts were: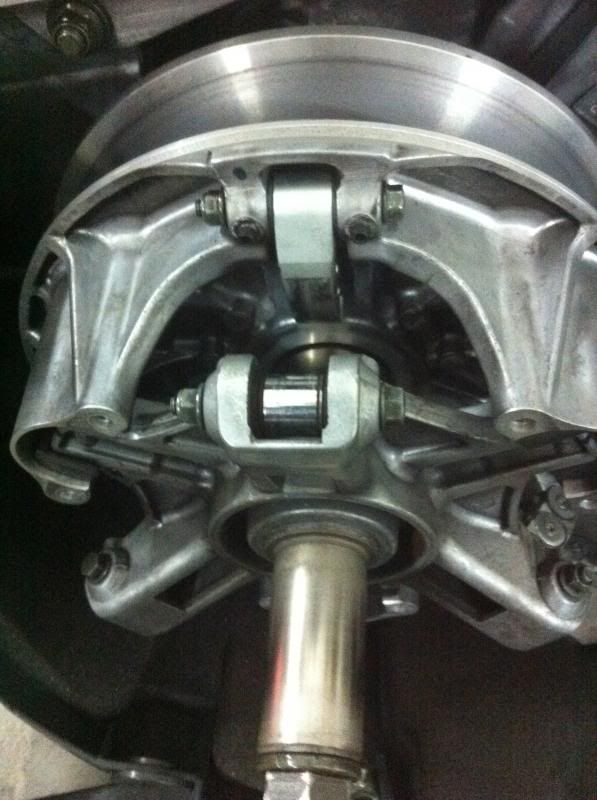 On the last trip with an arctic cat this happened:
That is the second trip this year, and it happened both times (although two different cats).
I don´t think I´ll ever get back to arctic cat again
Joined

Apr 14, 2003
Messages

1,760
Location
Country

Canada
Snowmobile

SideWinder LTX 50th
le700 said:

Btw how much fuel does your turbo machines use? I used a full tank yesterday on 100 km, hard packed snow, semi economic trail driving. quite a bit.. quote]

That is terrible mileage.
I use 19 ish litres per 100 km with similar type of riding. [trail]
Almost double what you got.
Just a little better than my stock Apex SE. I don't know how, but MCX pretty much got us free hp if you are not using it all most of the time. Alpine Turbo Doo I ride with uses 15% more as does my former MPI Supercharged RX 1. Both are running less boost than me.
I have 25/37 gearing, running a 14" Hacksaw and Allen Ulmer clutched it.
Joined

Apr 14, 2003
Messages

1,760
Location
Country

Canada
Snowmobile

SideWinder LTX 50th
Plan on changing your belt more often than when you were stock.

2500 km is about max which is pretty good considering we are pushing 300 hp at it quite a bit.

Still way more than the belt blowing Cats, but nowhere near what an 8DN will run on a Stocker.

Joined

May 1, 2011
Messages

242
Location
I only have the mcx 200,but i feel it uses less fuel than stock.MCX-Supreme of the extreme ;-)
I thought I'd share my newest project: My 96 vmax-4 st
Before I got it:
First upgrade, red windshield:
Tearing it apart:
This will be a long term project. It needs paint, fixing cracks in hood, some parts and lots of cleaning. It's just a shame that most parts are sold out, not available anymore.
I got one last ride last friday with the apex. Got about 70kms, and the weather was great. The sled worked like a charm also. I only hit the limiter once, during a high speed pull over a lake, which is quite good. Maybe it felt s bit slower than before, but not sure.
There was only one concern, the sled started to use some oil. After 30 kms I had to fill half a litre. When running normal it seemed fine, but when releasing the throttle, blueish smoke came from the exhaust in various amounts. What can cause this? blown turbo? defect oil return pump? (valve seals..?) Too high flow of oil to turbo?
Wiping finger over plastic surround, also it is wet with oil: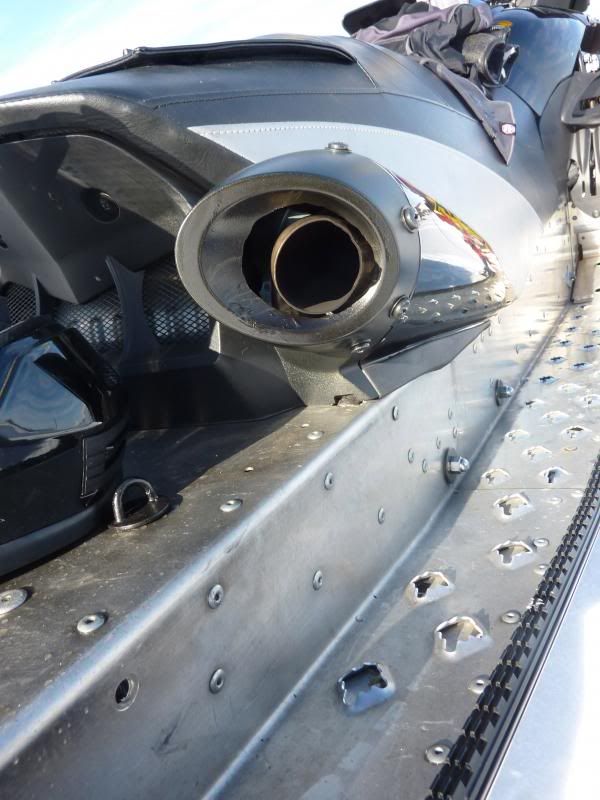 Some pics
On a side note I only filled 28 liters of fuel after last ride, so the fuel consumption were more like 2,5 liters pr 10km, not like almost 4 as i suspected. This leaves another question: how much fuel is left, when the fuel warning light comes on..?
A quick search revealed this thread:
http://www.ty4stroke.com/threads/rx1-turbo-smoking.88100/#post-772875
so next will be checking this, listed in the last post by TT:
"First make 100% sure that the vent line from crankcase isn't kinked since you had the engine rebuild.
If that isn't the problem here is a few ideas to check with the the MCX rearmount turbo kit:
1. Check if the 3mm pin in MCX oil return pump is broken
2. Make sure the oil pan under the turbo is still bolted on and all banjo fittings are tight. Some times they come loose.
3. Check both the return line and vent line from the oil pan under the turbo for any restrictions (kinked collapsed or melted) or holes. Tips: look were the hoses goes around heat shield and by the gas tank/bulk head right side"
Similar threads
This site uses cookies to help personalise content, tailor your experience and to keep you logged in if you register.
By continuing to use this site, you are consenting to our use of cookies.