Joined

Feb 15, 2011
Messages

1,510
Location
Website
Country

Canada
Snowmobile

2018 Sidewinder RTX
I ran that stretch this winter as well. Hadn't been up there before so we ran steady and didn't push it. It was a warm day with wet snow so fuel mileage was poor. From the last fuel stop to mattagami the od was 195 km and it took 36 l to fill her up. I was on fumes. That was running 100-110 kph.

Met some guys from buffalo running 2 renegades that we're hauling. They burned their tank out well short of mattagami and used their entire caddy- another 14 ish litres - burned most of that out before they got into town.

Thanks for the info on oil consumption
Sounds like a 5 day trip up there - the small 4.5 litre caddy's aren't enough. I always thought a rotopax 4.5 l would be a good set up on the back of doo with oil
Ms

Joined

Dec 30, 2005
Messages

300
Location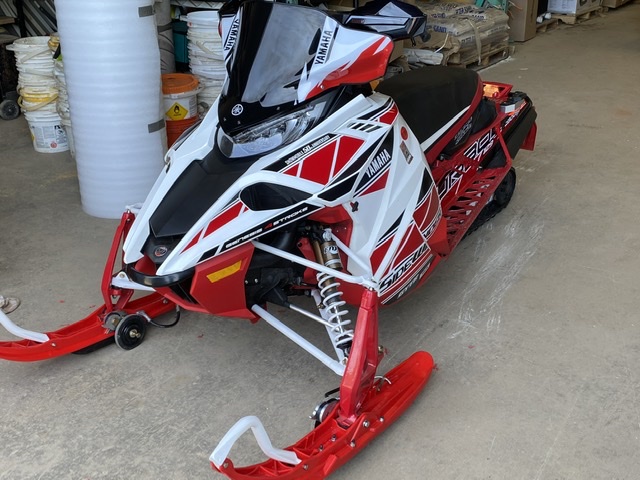 I went to the 5.7 pilots with the aggressive snow trackers and added the qualipieces roller ski wheels. You built an awesome sled .It really is the perfect sled for where I ride which is the big trails of northern Aroostook county,Maine and Quebec
Last edited:

Joined

Dec 30, 2005
Messages

300
Location
I went to the 5.7 pilots with the aggressive snow trackers and added the qualipieces roller ski wheels. You built an awesome sled .It really is the perfect sled for where I ride which is the big trails of northern Aroostook county,Maine and Quebec
Last edited:
Joined

Apr 4, 2019
Messages

447
Location
Country

USA
Snowmobile

2016 RS VENTURE TF
2020 SIDEWINDER GT
great read and photo's, Thanks RD for sharing your review, very well written ...plus and minuses, type trail best use for manufacturer model sled.
The plywood you use on the truck bed, how do you secure it to the tailgate? I have a 6.5' bed and need to put down plywood to protect the edge when the ramp goes.
I have a 2up winder, probably not the best suited sled for some of the trails I ride but the wife doesn't want her own sled...at least not yet...for a 2up it rides really well single. Joe
Joined

Jan 17, 2005
Messages

6,851
Location
Website
Beginning of season, first thing I noticed the first ride was the instant snap of the 2s engine. I always thought my Tuned Winder 998 was snappy once tuned with Daves early spool tune. But these 850 2s engines are so snappy they make the 998 feel laggy. Yes it really jumped out at me first ride. Secondly at same time, that first ride when I snapped throttle, the skis went straight to the sky. Something I never could get the 998 to do. Now many people may not like this, but for tight rough trails this makes for the most fun/playful sled ever. I instantly thought of my old YZ 125 motocross bikes from my younger years, the 850 just feels like a light YZ bike, Funfactor off the charts.

On one busy Saturday we did a big ride up a powerline trail to whitney....It had to be 35 miles of 3foot moguls. Just packed with sleds and pounded out. That was the day I truly felt the weight benefit 100%. A day like that you can ride super slow and never arrive, or pound it hard skipping the tops of the massive moguls. My riding partner is hardcore and we tend to push things. On the Winder I may have went 1/3 of the way before sweating too much and would have to slow down, but this 850XRS is just like a toy in comparison, we pounded it through there to Whitney passing many many groups, and I barely broke a sweat, just incredible the punishment I put this sled through. And in the end not being beat up myself. I use the word "effortless" all the time when riding it. Ive rode alot of 4s sleds mostly exclusively since 2006 and they were all heavy, so that is why I can ride this sled MUCH faster through the junk then any previous sled.

Another aspect I sorta miss actually.....I did not even open my tool box all winter. LOL. As shown in this thread I enjoy wrenching, modding ect....but this 850 was gas n go. 2400 miles only but we had our season cut short with weather then CV19, so it would have been closer to 3500 miles easy. So when comparing the money and work I put into my Winder vs this sled, well there is no comparison. DOO does a nice job on their sleds. The sled looks brand new still at end of season, no chips, no loose rivets, skid looks mint. Idlers all perfect. No other sled brand seems to look this perfect after a season or two or more....Automotive quality for sure IMO.

There are some negatives for sure, and Im the first to state them. First and foremost its a 2s engine, every morning I start it up I must get it out of garage as fast as I can, the smoke is one thing that absolutely bugs me! While the etec is the cleanest idling 2s made, it still smells abit. Burning oil in general just bugs me, the quantity of oil used is also a big negative for me. 100 to 125 miles per quart of oil sucks for sure. But I do buy it in bulk from dealer at a much discounted 5 gallon jug cost. And this cost total for 2400 mile season was cheaper then just a set of clutch arms for my Winder, so I try to keep the oil costs in perspective. I spent thousands on my Winder, so the 175 for oil was actually chump change. LOL. Locally the oil tank works well going a good long day and coming home with half tank still, but oil becomes a bigger issue on our Qc trips. I used a mid size tail bag(seen in video) which I was able to put 4 quarts of oil into easily with room to spare, and still use my gas caddy with stacked LinQ bag for luggage. So the oil on trip worked out well.

Power of the Doo 850 is really good. It does beat the Poo 850 from this season by a bit. I would say my sled actually feels faster and more snappy and fun on my tight trail system then my Winder did. Due to having such instant throttle response, it can snap corner to corner faster than I could on my Winder. It has a much meatier power band then my previous 2s(800 etec-2014). Now when we went up to Qc on those big trails, I certainly missed the mighty 998 with tune! We saw alot of 998s up north, and that is where the 998 is right at home. As I said initially, buy the sled for where you ride, and if I lived on those big super highway trails, I would own the 998. Where the 850 tails off around 100-110 the Winder is still pulling like a freight train. In Qc i was able to hold the 850 for long long stretches and those areas I could have used more for sure! But it did impress me using one belt all season with no belt or clutch issues, and motor seems to love being held WOT for as long as I wanted. I will say I would not own ANY 2s without warranty, and will not keep one of these 850s past 2 seasons or approx 5000 miles.

I do feel the g4 pushes more than it should on our tight trails when softer. Bud installed Pilot R skis and his pushed alot less, so the updates coming from doo for next season for 21 should be welcome. New pilot skis with longer/deeper keel and new RasX front end with wider stance and more travel, along with new RasX rear skid with more travel which reviews have said to handle much flatter with zero twitch. For me the handling on mine is great, but the new ones should be even better.

View attachment 154861
Good summary! I rode the 20.5 XRS prototype for 330 miles last year. It was basically a test mule for BRP showing new R motion.
Points worth noting:
-TOTALLY agree on power and snap especially against a stock winder which I also agree is a slug compared to my turbo apex and this XRS, this is 1st 2S I would be happy with power wise
-TOTALLY agree on whoops handling! I pounded this new one and could not get it to bottom or be harsh, amazing really!
-TOTALLY agree on the negatives, man I hate adding oil and smoke! I get it!
In summary I will not ride a Doo because I like the super 140+ mph lake speed but I do ride a lot of tight woods and while I am younger I like the 'workout'...no doubt when I get older, less likely to mod, and trade up more often, I will be on a Doo. I hate that at 5K miles you need to look at trading, that bugs me and why I like my 4 strokes. No doo 2S will ever be as fast top speed and no 4S turbo Yam will ever be 'effortless' to drive. You said all that well! Great sleds and I am so impressed that with a Doo I probably wouldn't even tinker on it! Just ride and keep a eye out when they come out with new tech I want to trade up for. I have about 10 more years before I am willing to do that though
Until then I'm hammer down trying to fly LOL